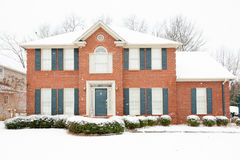 Brick is one of the most enduring building products, providing warmth as well as wind protection and weather resistance, particularly in the winter. As we've discussed earlier, brick is also fireproof and pest resistant.
Warmth:
Brick buildings have excellent thermal mass. Thermal mass is the ability of a heavy, dense material to store heat and then slowly release it. This means it is cooler in summer and warmer in winter. This is a significant advantage considering that more than 30 percent of the average home's energy use is made up of heating and cooling.
Energy Efficiency:
Because of its ability to reflect and retain heat, brick is more energy efficient than other building materials. It will help keep your home cool in the summer and warm in the winter and also lower your energy bills, as we'll explore in an upcoming blog post.
Wind Protection and Weather Resistance:
In addition to warmth and energy efficiency, brick homes offer shelter from the storm – quite literally! Brick homes offer additional high wind protection when compared to vinyl siding.
In fact, a study conducted at the Wind Science and Engineering Research Center at Texas Tech University, demonstrated that a medium-sized wind-blown object, such as a 7.5-foot long 2 x 4, would penetrate homes built with vinyl or fiber-cement siding at a speed of 25 mph. By comparison, the same object would need to travel at a speed exceeding 80 mph in order to penetrate the wall of a brick home. This is important in the case of a high wind event like a hurricane, tropical storm or tornado.