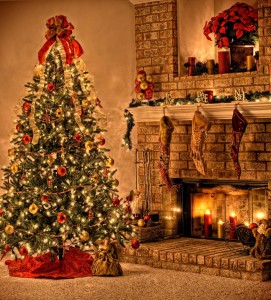 The holiday season is an ideal time to decorate indoor spaces, whether walls and furnishings include brick or other materials. But brick, in particular, lends itself to warm and cozy holiday décor. Here are just a few ideas…
Fireplaces and Mantles
If you have a brick fireplace, add some white lights (either strands of lights or accent candles) to the mantle.
Add an accent light to the picture or mirror that you have placed above the mantel.
Real or faux pine garland, ivy and holly berries, and pine cones quickly and inexpensively add a festive, natural and maintenance-free look for the holidays. Add a little bit of glitter on the garland or place a few shimmery Christmas balls to finish the look.
A wreath can be added above a mantel to create a focal point for the entire room.
Don't forget about the stockings! Heavy metal or wooden stocking hangers will ensure that stockings will remain secure even when filled with small toys and treats.
Interior Brick Walls
If you have a brick wall, consider hanging a large lit wreath or an unlit wreath and some accent lighting to create a focal point and conversation starter.
Consider placing your Christmas tree or lit topiaries in front of the brick wall for a beautiful backdrop for pictures.
Above all, have fun with your indoor holiday décor this season – and enjoy!