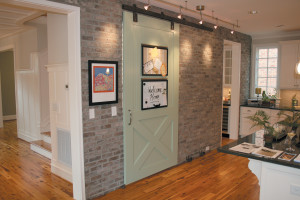 The kids are back to school and the days are getting a little shorter each week, but summer's not over yet! In fact, now is a great time to plan a weekend or multi-day DIY project with indoor thin brick.
From indoor chimneys and fireplaces to decorative walls in a kitchen, den or living room, thin brick provides a modern and updated look to any living space.
Indoor chimneys and fireplaces
Choose from an array of thin brick sizes, textures, colors, and patterns to bring your outdoor space to life. We will work with you to choose just the right product for your existing style and architecture.
Decorative walls
You can dramatically change the look and feel of a living space by adding thin brick to a decorative wall. In addition to the benefits of thin brick (listed below) when used indoors, thin brick also provides a functional and effective sound barrier.
For some tips on installing thin brick, check out this helpful DIY website:
http://www.doityourself.com/stry/how-to-install-thin-brick
Benefits of thin brick
Thin brick is a great alternative to full size brick because it doesn't require a support ledge and can easily be used for re-facing jobs.
It also weighs considerably less so it can be installed in areas where brick wouldn't be an option, takes much less time to install, and costs less than traditional brick.
Just like traditional brick, thin brick is low-maintenance and will not wear with time, so you won't need to worry about repainting or resealing your brick.
When you're ready to begin your next indoor thin brick project, contact the professionals at Watsontown Brick Company.