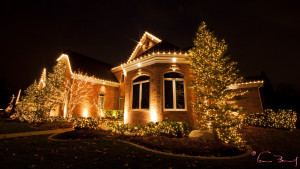 Take an evening drive in November and December and you're bound to see dozens of houses aglow with twinkling lights. What a beautiful and inspiring sight!
Here are some ideas to make the outside of your home shine this holiday season, whether your home features natural brick or another material.
Accent Lighting on or Near Home
While many types of exterior finishes look lovely when aglow with holiday lights, brick looks particularly cozy with just a few accent lights.
Consider adding an accent flood light to your front door or two lit holiday topiaries, one on either side.
Other options include projectors that illuminate an entire wall with small twinkle lights.
If you prefer not to place or shine lights directly on your home, pre-lit deer or snow men add a festive touch.
Light Strands and Icicle Lights
If you're ambitious, head to the roof! Dangling icicle or strand lights look particularly interesting on brick homes – even if you don't want to get carried away like Clark Griswold.
Above all, have fun with your outdoor holiday lighting this season – and enjoy!