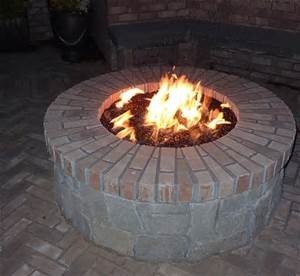 Fall has arrived, ushering in cooler temps in the evenings. Now is the perfect time to entertain family and friends around the fire pit. Regardless of the size or shape of your fire pit, there are some safety tips that we'd like to share. We hope they will serve as friendly reminders to keep your family, friends and property safe.
If you're still considering a fire pit:
Find the right location. Your fire pit should be at least 10 feet away from any structure or combustible surface. It should also be placed on a level surface like brick, concrete or stone. Unless the owner's manual says so, don't put fire pits on grass, wooden decks, or enclosed porches.
If you already have a fire pit:
Before lighting a fire, check the local weather and wind direction and consider the dryness of the soil (Ask yourself if it has rained lately). On that note, it's important to stay up-to-date on any burn bans or burn ordinances that might be in effect at different times of the year.
Do some outside housekeeping, including clearing any leaves, sticks, and vegetation away from the fire pit and entertaining area. A few sparks can easily and quickly ignite these combustible materials, putting a damper on your festivities.
Always have a container of water nearby and a garden hose on standby before starting the fire.
Use good fuel – that means dry, seasoned wood that was cut at least six months earlier.
To keep sparks from flying, make sure logs are no longer than three-quarters of the pit's diameter.
Never use lighter fluid, gas, or kerosene to light a fire.
Don't wear flammable clothing or any loose-fit clothing.
Safely snuff out the flames and dispose of ashes and embers before leaving the fire pit area.
Keeping these safety tips in mind, we're confident that you'll have a safe and enjoyable fire pit experience.